History of Singleton
Singleton owes much of its recent history to the legacy of the Miller family. The Miller family were wealthy cotton manufacturers working in partnership with the Horrocks family in the cotton industry in Preston. In 1853 Thomas Miller bought Singleton Estate and for two generations, Thomas Miller and then his son Thomas Horrocks Miller invested their fortune that had been into Singleton and neighbouring Thistleton.
The Miller family built Singleton Hall, Singleton Park, North Lodge and South Lodge as their country residence and invested heavily in improving the living conditions of their tenants and the agriculture of the area. They drained the land, planted woodland, built new farms and made Grange Farm the estate's home farm where up to 100 shire and carriage horses were stabled including the famous shire stallion, Honest Tom.
For their tenants they built new cottages, a new church, a post office, a reading room, the village school and a village hall. They helped the community to prosper by investing in Singleton Mill, the Smithy, the fire station and even building a new road to the railway station. They also renamed the village pub - the Miller Arms.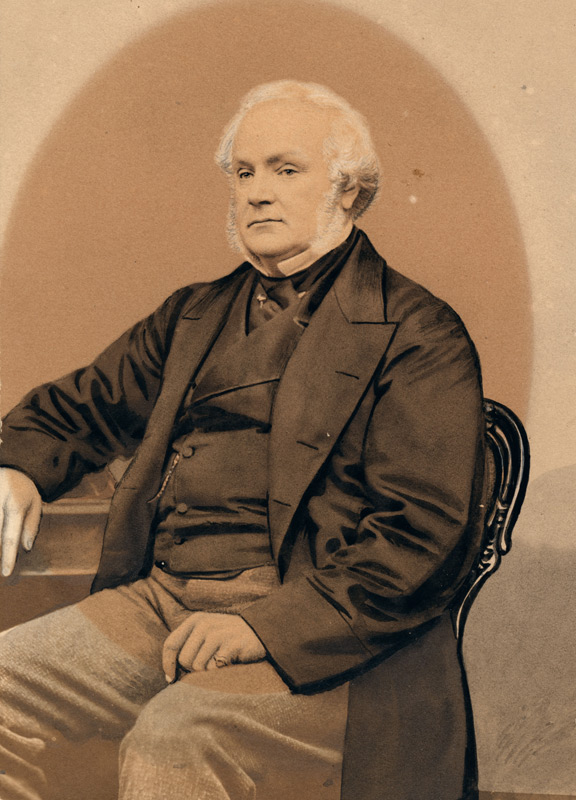 Alderman Thomas Miller
Thomas Miller died in 1865 and is buried in St John's church at Lytham. His son, Thomas Horrocks Millerand other family members are buried in Singleton Churchyard. He died on 21st January 2003 and left instructions in his will that upon his death, his executors were to set up a charitable trust to hold the estate for the benefit of the village and its community. The Trust which bears his name is administered by a group of trustees with the day to day running of the estate entrusted to a firm of surveyors and land agents.
Singleton Estate stayed in the Miller family until 2003 when it was left to a charitable trust for the benefit of the community (the Richard Dumbreck Singleton Trust). The estate now comprises of 30 cottages, a farm, 560 acres of farmland and Singleton Park.
Other notable people that helped shape the history of Singleton include Meg Shelton, the Fylde witch who was born in Singleton in the 17th century and Robert Gillow, founder of the famous furniture company 'Gillows' in Lancaster was born at Gillow's farm in 1704
Before the Miller family bought the village the earlier Squire of Singleton lived at Singleton Lodge and kept hounds kennelled on Station Road.
The Millers Tale
To find out more about the Miller family and the part they played in Singleton and nearby Thistleton Jerry Park has written a book titled ' The Millers Tale'.
The Trust would like to thank Singleton History Group and Landy Publishing for allowing the reproduction of their material and photographs from Singleton's Story: The Fylde's Model Village 2009.
Contact Us